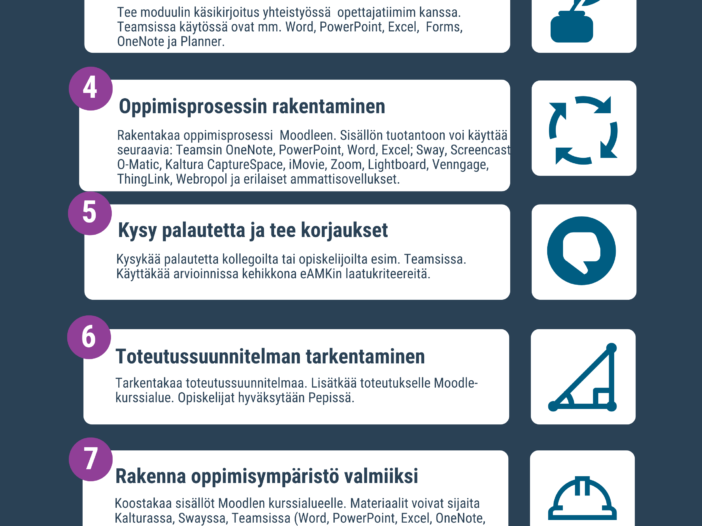 Design quality for module implementation
Design quality for module implementation is part of the training of teaching staff, which aims to support the design and construction of e-Modules. The red thread in coaching is the national quality criteria for online implementation as well as the internationally known CarpeDiem and ABC learning design models, which are suitable for teamwork. Based on these, a design quality for module implementation concept for teaching and learning environments has been developed in HAMK.
Coaching is available as individual workshops that you can attend alone or with your module team. Longer coaching online implementations with workshops are intended for teachers starting online teaching. In addition, experienced online teachers can utilize self-study material either alone or together with a team to develop their implementations. The goal is for each HAMK e-Module to be self- and/or peer-reviewed according to the quality criteria. You can find both the workshops and the longer coaching schedule in the staff coaching calendar.
Key learning outcomes
Be able to produce and implement quality online implementations together with the module team.
Can choose appropriate digital tools for building and implementing online modules.
Contents
Building a module implementation
Open badges
Apply for HAMK staff's open badges and demonstrate you can execute digital pedagogic solutions and utilize digitalization appropriately in teaching.
Tutustu valmennuksiin