Moodle Dashboard
There are several ways to access Moodle courses:
With a direct link
Via the list in the menu that opens at the top left of the site
With the search function
Through Moodle dashboard views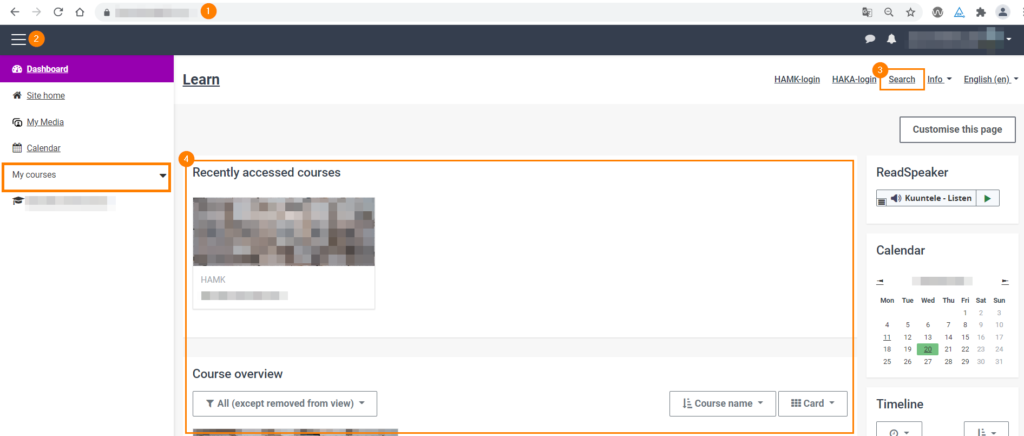 The Moodle Dashboard
On your Moodle Dashboard, the top section shows the courses you last visited. If it is your first time in this Moodle, this section is most likely empty
In the Course overview, you can choose to view current, past, or future courses.

Courses can be sorted by name, for example. View options are card, list, and summary.
You can mark your favourites (star this course) or hide what is currently unnecessary (remove from view).
Teachers find the hidden course areas last in this listing.

The timeline displays the forthcoming deadlines for all courses.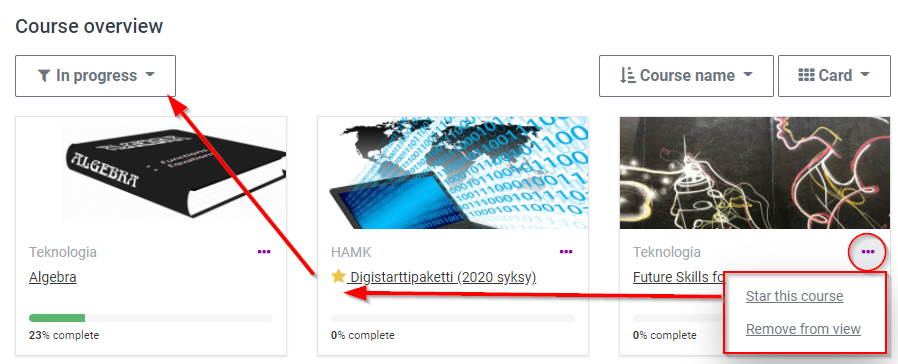 Can't find some course from the Moodle dashboard ?
Check the settings in the Course overview section (see instructions above).
The In progress option in the course overview section shows the courses which match with the given start date of the course.

If the current workspace does not appear in the summary, the specified execution time of the workspace is not set correctly or is se to the future.
In this case, please contact the implementation's teacher.

The students will not see the course area if the teacher has not yet made it visible. Hidden workspaces for teachers appear at the bottom of the list.